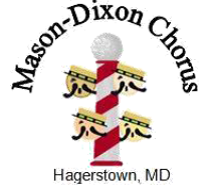 Welcome to the Mason-Dixon Barbershop Chorus home page. Now in its 60th year, the Mason-Dixon Chorus is a member of Barbershop Harmony Society (BHS), the largest singing organization in the world, with more than 24,000 men comprising http://masondixonchorus.com/wp-admin/post.php?post=2&action=edit800 chapters in North America. Its music is sung a cappella (without accompaniment) in close, four-part harmony. We give several concerts a year and numerous other singouts at various community functions. Come join us and after you hear that one chord "lock in" you'll be with us for years!
Ready! Set! Sing!
Six weeks of free voice lessons from 7:30-8:30 beginning September 19th. No obligation to join! Sign up for personal growth, to become a better singer in your choir, to experience barbershop four-part harmony, or just for fun!
Each night provides group voice lessons, plus rehearsing a song with the Mason Dixon Barbershop Chorus. Graduation is October 24th highlighted by all students singing with the Chorus "Country Roads (Take Me Home."
To sign up contact Doug Logan; dlogangolfs@gmail.com or 240.675.1586.
Spring Program "Remember Radio"

April 30th @ South Hagerstown High School
Show begins @ 7:00
We had a great show with about 600 in attendance.
Check the schedule for upcoming singouts!
Would you like to hire the chorus or a quartet? Click here to submit a request.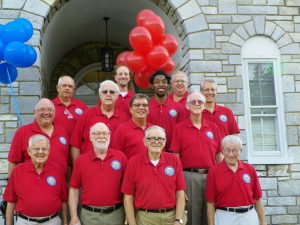 ---
The all-male chorus, with members ranging in age from 13-90, is the local chapter of the Barbershop Harmony Society, the largest singing organization in North America. We sing a cappella (without accompaniment) in close, four-part harmony.
Last November we presented "All Aboard," a show reflecting on the Hub City tradition, and gave our profits, $3,000, to the Doey's House project of the Hospice.
This winter we have sung in eight local schools as we look to inspire the students, particularly as a role model for young men, to "keep the whole world singing."
We would like some funds to help purchase music and supplies to boost our education efforts with young people.
We would also like to do more community singouts for groups in settings where they may not be able to pay us. So if an individual on Washington County Gives donates the average $200 chorus singout fee, we could sing for a less-fortunate individual or group who needs to be encouraged by our voices of cheer.
We could also use funds for a portable but powerful sound system, and new uniforms.
Thank you for supporting our uniquely American art form of barbershop singing through Washington County Gives!

Want to join us? Click here for details.
Here's a sample of that harmony in the form of a "tag," which is typically the "juiciest" last few measures of a song – in traditional Barbershop style. (These four are at a Harmony College get together, one of many events nationwide that teach and display barbershop harmony. It's a "pickup" quartet but each part is represented. If you look closely at the medallions around the necks, at least two of them are International Champions from different quartets!).