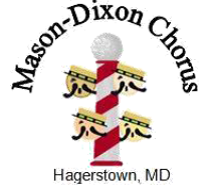 April 17, 2014
BARBERSHOP CHORUS SETS GUEST NIGHT MAY 12, 2014

Hagerstown—Are you a guy who likes to sing but is not sure where to launch into song?  Then the Mason-Dixon Barbershop Chorus is looking for you!
The local chapter of the Barbershop Harmony Society will have a special Guest Night on Monday, May 12 from 7:30-9:30 p.m. at Haven Lutheran Church, 1035 Haven Rd. in North Hagerstown.  Haven Road is off Route 11 (Pennsylvania Ave.) across from Western Maryland Hospital, up the street from North Hagerstown H.S.
There will be special demonstrations of the barbershop craft, including quartets and tag singing.  Each guest will have the chance to sing with the chorus as well as a pick-up quartet, refreshments will be served, and each guest will be given a take-home gift.
Now in its 60th year, the Mason-Dixon Chorus is a member of BHS, the largest singing organization in the world, with more than 24,000 men comprising 800 chapters in North America.  Its music is sung a cappella (without accompaniment) in close, four-part harmony.
The local chapter is looking for men and boys, ages 12 and up, who like to sing.  No ability to read music or prior experience is required.  The area men give several concerts a year and numerous other singouts, both from the chorus and their quartets, at various community functions.
For any questions or to pre-register, call Ron Kline at 240-500-5524
Welcome to the Mason Dixon Barbershop Chorus home page. We are a chorus of diverse men who love singing in the tradition of four-part Barbershop Style harmony. If you're not sure exactly what that is, come join us and after you hear that one chord "lock" in you'll be with us for years! Don't believe us? Come find out.
If you're a guy between the ages of 12 and 122, come join us for rehearsal every Monday night from 7:30 – 9:00pm at:
Haven Lutheran Church
1035 Haven Rd, Hagerstown, MD 21742
Or contact Jeff Matthews, 301-730-7078
or email us
We'd certainly love to have you.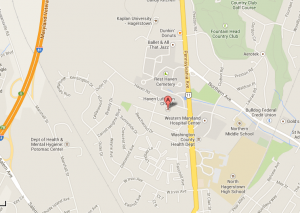 Here's a sample of that harmony in the form of a "tag," which is typically the "juiciest" last few measures of a song – in traditional Barbershop style. (These four are at a Harmony College get together, one of many events nationwide that teach and display barbershop harmony. It's a "pickup" quartet but each part is represented. If you look closely at the medallions around the necks, at least two of them are International Champions from different quartets!).