Say "I Love You" with a song!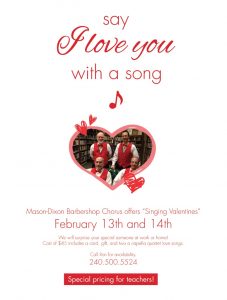 One of the highlights for our members have always been Singing Valentines. This year (2017) on February 13th & 14th we will out into the community and sing a couple of songs to loved ones. Usually the spouse or significant other hires us to totally and completely embarrass his or her loved one – actually, we are just hired to sing; the embarrassment comes when we sing in front of co-workers and friends. Without a doubt it is a memorable event for all.
If you would like to hire a quartet, the cost is $45 and your loved one will receive two songs and a gift. Please fill out the form below and we will get back to you to confirm the details.
Comments or questions are welcome.